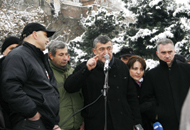 Main opposition candidate Levan Gachechiladze combatively confronted the Central Elections Commission (CEC) chair yesterday, accusing him of rigging the vote count for January 5's presidential election.
(more)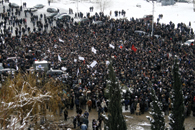 The Central Election Commission is days away from officially confirming incumbent Mikheil Saakashvili's reelection, while the opposition decries the vote count as rigged. The main opposition coalition behind Levan Gachechiladze, who took a quarter of the vote in the January 5 election, promise mass public protests —- but how much support will they have?
(more)
The EU, NATO and a host of Western nations have praised Georgia's conduct in the presidential election on January 5, while calling on the government to address shortcomings highlighted by election observers.
(more)