Patarkatsishvili charged in alleged coup plot
By Anna Kamushadze
Friday, January 11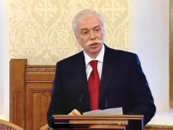 Business tycoon Badri Patarkatsishvili is charged with conspiracy to overthrow the state, the Prosecutor General's Office announced yesterday.
Patarkatsishvili, who was a candidate in the January 5 presidential election, is also charged with conspiring to commit assassination and planning terrorist acts.
Patarkatsishvili has been out of Georgia since anti-government protests in November, and was thought to be splitting time between residences in London and Israel.
During that time, he was running a presidential campaign in Georgia by proxy. Before the election, his representatives in Tbilisi demanded guarantees of legal protection for their candidate, beyond the basic immunity given to all presidential candidates, before he would return to Georgia; authorities refused to offer any.
The charges stem from a covertly recorded audio tape, released by authorities in late December, in which Patarkatsishvili allegedly attempts to bribe a top Interior Ministry official to denounce the presidential election as rigged and "neutralize" the Interior Minister.
Patarkatsishvili admits having the conversation, but says the tape was edited to twist around his words; the bribe was to stop Interior Ministry forces from firing on demonstrators after the election, he claimed.
Before the release of the tape, and another tape of his then-campaign chief apparently detailing the same scheme, Patarkatsishvili was polling in the low double-digits.
Preliminary results from the January 5 presidential election give Patarkatsishvili about seven percent of the vote.
With charges filed, Patarkatsishvili is now compelled to appear before the Prosecutor General's Office.
Patarkatsishvili's allies say the charges are politically motivated.
"There is no real evidence that Patarkatsishvili was planning a terrorist act, or to overthrow the government," MP Gocha Jojua, a Patarkatsishvili campaign representative, said yesterday. "The government staged this to put ashes in the people's eyes, to draw their attention to Patarkatsishvili's case and not to the OSCE conclusion that the election had a lot of irregularities."
The government has frozen Patarkatsishvili's bank account at Standard Bank, which is majority-owned by the investment fund which handles his Georgia portfolio.
Jojua said this was another political assault, designed to handicap their election campaign.
"In any normal country, if a candidate isn't allowed to use his own money to run his election campaign, that's enough that the election's results should be annulled," Jojua declared.
Authorities have targeted the business mogul, who is also wanted on fraud charges in Russia, at least since the crackdown on anti-government protestors on November 7, when they raided Imedi TV and an amusement park, both founded by Patarkatsishvili.