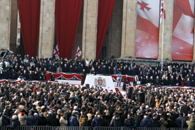 Mikheil Saakashvili was sworn in for his second term as Georgia's president yesterday, while opposition campaigners rallied to protest what they say was a rigged election.
(more)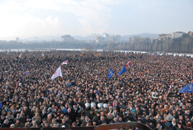 An OSCE/ODIHR interim report released last week lists vote counting irregularities and unusually high turnout at some polling stations as some of the shortcomings of the recent presidential election.
(more)
Shortly after President Mikheil Saakashvili offered Russia a "hand of friendship" in his inauguration speech yesterday, Russian Foreign Minister Sergey Lavrov said Moscow is ready to move from words to actions on improving relations with Georgia.
(more)