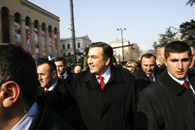 As President Mikheil Saakashvili begins his second term in office the question of NATO is sharply in focus, with official plebiscite results revealing that over three quarters of voters back Georgia's integration into the alliance.
(more)

It's a familiar reprise of political gossip and crystal ball-gazing punditry, but predictions on the new cabinet of ministers carry unusually heavy significance this month.
(more)
Matyas Eorsi, a rapporteur for the Parliamentary Assembly of the Council of Europe (PACE), echoed broad approval of the validity of Georgia's presidential election yesterday, but warned that Tbilisi must address reported election violations without delay.
(more)