Court freezes Patarkatsishvili's Georgian assets
By Eter Tsotniashvili
Monday, January 28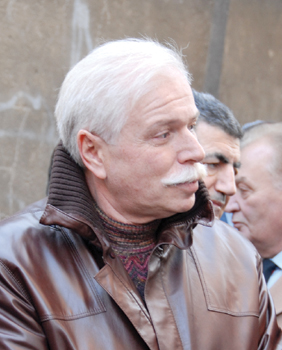 Tbilisi City Court has frozen the Georgian assets of tycoon and former presidential candidate Badri Patarkatsishvili, the court announced on January 25.
The court's decision, dated January 22, freezes assets belonging to Patarkatsishvili and some of his Georgian business partners, citing charges against the billionaire of conspiracy to overthrow the state, to commit assassination and to commit terrorist acts in Georgia. His property within the country, the court ruled, could still be used to carry out his illegal plans.
Patarkatsishvili's shares in Imedi TV, JMG Consulting Group, Maudi Manufacturing and LTD Universal were all frozen. On January 8, Patarkatsishvili's private account with Standard Bank, which itself is majority owned by the company in charge of his Georgia investment portfolio, was also frozen.
Prosecutors charged Patarkatsishvili on January 10 with plotting a coup to follow the presidential election. The charges came after authorities released a secretly-recorded audiotape in late December of the businessman apparently trying to bring a high-ranking Interior Ministry official to denounce the election as rigged and arrest or kill the Interior Minister.
The ruling raises new questions about the status of Imedi TV, which was shut down in a government raid on November 7. Imedi TV reopened weeks later, then voluntarily suspended broadcasts in the wake of the release of the Patarkatsishvili audiotape.
Imedi TV's license is being reviewed by the Georgian National Communications Commission, with a decision set for February 15. In a recent report, the commission stated that Patarkatsishvili, who formed a political group to run for president, is in violation of a broadcasting law forbidding politicians to own television companies.
The commission said that Imedi TV is entirely owned by E-Media Ltd., which in turn is majority-owned by JMG Consulting Group, of which Patarkatsishvili directly owns a 15 percent stake.
The commission's report did not explain what ownership, if any, is held by News Corp, which is supposed to co-own and have management rights for Imedi TV.
Soso Baratashvili, a lawyer for Imedi, said that only the television network's shares are frozen, not its license. The station could resume broadcasts as long as the Georgian National Communications Commission allows it to keep the license, he said.
Patarkatsishvili, who has been out of the country since November's street protests, is officially wanted by prosecutors, as is his former campaign chief, MP Valeri Gelbakhiani. Parliament is expected to strip Gelbakhiani of his lawmaker's immunity today.