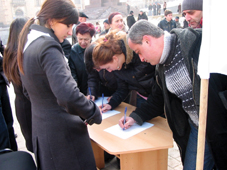 Opposition coalition campaigners sought public support in street demonstrations yesterday, while talks with Speaker of Parliament Nino Burjanadze seemed to produce few results.
(more)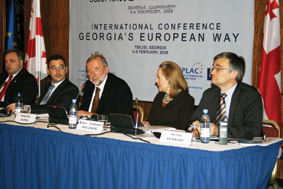 Top EU representatives arrived in Tbilisi to discuss the European Neighborhood Policy and regional cooperation yesterday, but inevitably were called to weigh in on the domestic political situation after meeting with the government and the opposition.
(more)
An EU delegation, including Commissioner for External Relations and European Neighborhood Policy Benita Ferrero-Waldner of Austria, is in Tbilisi for a South Caucasus conference.
(more)