Constitutional amendments which would reschedule the next parliamentary elections for spring went nowhere in the February 19 parliament session, after the ruling party claimed it couldn't round up enough votes to pass the amendments and accused the boycotting opposition of holding them up.
(more)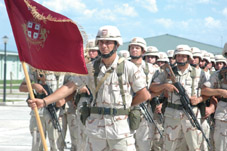 Georgian troops remain in Kosovo after it declared independence on February 17, tasked with keeping the peace in a country Tbilisi does not recognize.
(more)
On February 19, the EU/UNFPA-funded Reproductive Health Initiative for Youth in the South Caucasus (RHIYC) kicked off a second round of trainings for South Caucasus youth organizations working on young people's sexual and reproductive health and rights issues.
(more)