Famed Italian poet's work translated into Georgia for first time
By Diana Dundua
Tuesday, February 26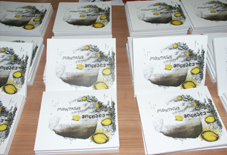 A Georgian translation of the works by Italian Nobel Prize-winning poet Eugenio Montale was presented to the public on February 20.
Lela Beridze and her mother, Mzia Koberidze, spent two years translating Montale's works; this is the first time he has been translated into Georgian.
"This book is the result of a mutual effort," Beridze told the newspaper. "Eugenio Montale's works are very difficult, even for native speakers of Italian. We read a lot of his works and publications to translate his style and complex contexts into Georgian, and of course our Italian colleagues helped us a lot."
Supported by the Italian Embassy, the event took place in the library of TBC Bank's head office.
At the presentation, attended by members of the diplomatic corps and local dignitaries, students recited Montale's poetry in both Italian and Georgian, with music students from Tbilisi State Conservatory playing background compositions.
"Eugenio Montale was the biggest prose writer of the 20th century, not just for Italy but for the whole world. His translation into Georgian is really a huge responsibility, and a very pleasant fact," former head of the State Chancellery Petre Mamradze told journalists at the presentation.