Tbilisi awaits assessment report ahead of NATO summit
By Messenger Staff
Tuesday, February 26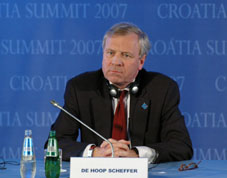 Tbilisi is awaiting the release of a NATO Assessment Mission report, due to be completed yesterday, that could have an impact on whether Georgia receives a Membership Action Plan (MAP) at the Bucharest summit in April.
The report will detail the mission's findings during its third visit to Georgia in January to observe the country's progress in implementing the Individual Partnership Action Plan (IPAP), which oversees reform in prospective member states.
Deputy Defense Minister Batu Kutelia said the report will determine whether Georgia receives a MAP—the next stage in a prospective member's progress toward joining the Alliance—at the upcoming summit.
However analysts are less optimistic about the significance of the report. Political expert Archil Gegeshidze says that only if the report is very positive will Georgia's chances of obtaining a MAP at Bucharest increase, and even then only slightly.
Speaking yesterday, Kutelia emphasized the country's progress on military issues and said a defense ministry delegation has been discussing ways to implement further military reforms with NATO officials in Brussels.
However, in assessing Georgia's progress the alliance is not solely concerned with defense reform, a point NATO Secretary General Jaap de Hoop Scheffer emphasized on his most recent trip to Tbilisi last October.
"Contrary to what people may think, modernisation of the defense and security sector is not all that NATO is interested in," de Hoop Scheffer said, adding that NATO would pay close attention to the parliamentary and presidential elections, which were at that time scheduled for autumn 2008.
After the November 7 unrest, President Mikheil Saakashvili called a snap presidential election for January and a referendum resulted in parliamentary elections being pushed forward to this spring.
With international observers noting violations during the January presidential election, Gegeshidze says NATO may be inclined to hold out on giving Georgia a MAP until after parliamentary elections.
If these are deemed free and fair, he adds, Georgia's chances of receiving a MAP at the following summit will increase.
Georgia's NATO ambition continues to be a sore point for Russia, and President Vladimir Putin recently brought up the issue during talks with Saakashvili on Georgia-Russia relations in Moscow last week.
"As far as NATO expansion is concerned, Putin told Saakashvili that we see no real reasons for that and warned of consequences of such a step to Russia-Georgia relations," Reuters quoted Russian Foreign Minister Sergey Lavrov as saying after the meeting on February 21.