Rising food prices worry voters
By Anna Kamushadze and Shorena Labadze
Tuesday, February 26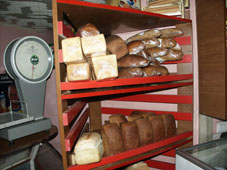 "Two weeks ago, a kilo of chicken cost GEL 4.50. Now, it's GEL 5," complains Manana, a shopkeeper in the Tbilisi suburb of Varketili. "If the normal salary in our country is GEL 200, and some people don't even have this, how can people survive?"
Consumers and vendors are worrying about increasing sticker prices on market shelves, and not without reason. Statistics Department data shows the consumer price index for food and non-alcoholic beverages up 4.9 percent in the month of January, the largest single month increase since December 2004.
"[My household grocery bills] have gone up 10 or 15 percent since the New Year," Zaza, a Tbilisi resident, estimates. "People are frustrated."
Local economists say both world market dynamics and domestic politics are influencing prices.
Davit Ebralidze pins much of the blame on the weakened dollar, which Georgian importers use to purchase goods abroad.
"We don't have our own production. We important all sorts of goods from Europe and neighboring countries, which is why prices on them are getting higher," the economist told the
Messenger
.
But analyst Gia Khukhashvili blames businesses for manipulating prices as they look to recoup money donated to the reelection campaign of President Mikheil Saakashvili.
"Companies' political investments have contributed to the price increases. Businessmen set aside a lot of money to finance the presidential election campaigns, and now they want compensation," Khukhashvili claims.
"I don't see any factors that will stop the rise of prices in Georgia. I think prices on consumer goods and everything else will increase day after day," he predicts.
But the government is assuring Georgian families that the price of bread, at least, will stop rising. Over the last year and a half, bread prices have risen 40 percent in some places, in part due to poor global harvests and shrinking domestic stockpiles.
Agriculture Minister Petre Tsiskarishvili announced yesterday that negotiations with Kazakhstan have concluded with the purchase of 20 000 tons of wheat at the "lowest price," with half of the order to be delivered in March.
"It's difficult to speak about the far future, but we can definitely say that Georgia has wheat reserves to last until spring when we'll get our crops," deputy Agriculture Minister Aleko Tsintsadze commented.
According to the Ministry of Economy, Georgia needs 800 000 tons of wheat each year.