Thousands mourn as Patarkatsishvili laid to rest
By Messenger Staff
Friday, February 29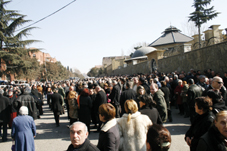 Thousands came to pay their last respects as billionaire businessman Badri Patarkatsishvili was laid to rest yesterday at his Tbilisi residence.
Friends, associates, political allies and members of the public gathered at Arkadia, the Tbilisi wedding chapel Patarkatsishvili restyled into a personal palace.
Catholicos-Patriarch of All Georgia Ilia II was present as Patarkatsishvili's coffin was buried in the grounds outside his home. The ceremony itself was closed to press.
Patarkatsishvili spent the final months of his life in self-imposed exile after Georgian authorities charged the former presidential candidate with plotting a violent coup attempt.
After his sudden death, Georgians praised a man remembered for his philanthropy and patriotism.
"He's done much for Georgia," said Luka, a student, shortly after Patarkatsishvili's death. "No matter what the authorities say, the Georgian people will never forget his good deeds."
Purportedly Georgia's richest man, Patarkatsishvili benefited, and benefited from, a wide array of characters.
Leading local opposition politicians arrived at the ceremony together, as did a flock of journalists from the beleaguered Imedi TV, Patarkatsishvili's personal television network.
Patarkatsishvili, a Jew, lived between Israel, England and Georgia; an Israeli delegation came, as did the wife of Boris Berezovsky, Patarkatsishvili's long-time business partner in Russia who said he could not obtain a visa in time.
Patarkatsishvili died on February 12 at his mansion near London at the age of 52, from an apparent heart attack. An initial post mortem found he suffered from severe heart disease, but English investigators are carrying out extensive toxicology tests before making any conclusions on the cause of death.
The business tycoon, whose fortunate was estimated at more than USD 10 billion, financed an opposition campaign and eventually mounted a scrappy presidential bid after falling out with the Saakashvili administration. In the January 5 presidential election, Patarkatsishvili took seven percent of the vote.
He leaves behind extensive assets in Georgia, including shares in his Imedi media group and Standard Bank. His will reportedly splits his fortune between his wife and two daughters, who have promised to continue funding his charitable foundation.