Georgian journalist remains in Abkhaz custody
By Anna Kamushadze
Friday, February 29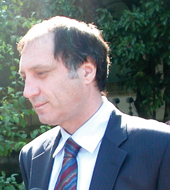 Abkhaz officials say they will hold a Georgian journalist, detained February 26, while they investigate what he was doing in the breakaway region.
The day after Abkhaz forces detained Mze TV journalist Malkhaz Basilaia for "illegally crossing the border," President Mikheil Saakashvili demanded that he be released without delay. If not, the president said, force would be used to free him.
"I want to tell [de facto Abkhaz president] Sergey Bagapsh in the Georgian language, which he understands perfectly: either Bagapsh immediately orders his illegal police to stop torturing and release the kidnapped journalist, or I, president of Georgia, will issue a very lawful order to Georgian police to free Basilaia in [the de facto secessionist capital] Sokhumi," Saakashvili said.
That evening, friends and family of Basilaia gathered at the administrative border with Abkhazia after hearing incorrect reports that the journalist would be released. When it became clear that he remained in custody, family members said they would march into Abkhazia if Basilaia is not freed soon.
Raul Kiria, a spokesperson for the Abkhazian government-in-exile, said Basilaia's supporters are petitioning the UN office in Zugdidi to intervene in the case.
"[Basilaia's] parents, family and friends are here. We're all fighting for his release," Kiria said yesterday. According to Kiria, a UN representative confirmed that the journalist is in a Sokhumi prison.
Abkhaz de facto authorities said two other Georgians, Davit Tsotsoria and Tsotsoria's mother, have also been detained. Separatist officials released a tape of Abkhazian reporters quizzing the Georgians. Asked if they have been physically abused, Basilaia did not clearly respond, but the other two detainees said they had not.
Sergey Shamba, the de facto Abkhaz foreign minister, declined to tell the Messenger yesterday how long the three detainees could be held or whether Sokhumi is considering a prisoner swap.
"An investigation is going on, so we cannot say what will happen with them until the investigation gets results," Shamba said.
Initial Georgian media reports asserted Russian peacekeepers beat and detained Basilaia. A spokesman for the Russian-led CIS peacekeeping forces in Abkhazia, however, told news agency RIA Novosti on February 27 that Russian peacekeepers had no role in the incident.
He also pointed out that video footage of Russian peacekeepers scuffling with Basilaia, shown in February 26 news reports on the detention, was filmed a year ago, and accused the Georgian media of taking "provocative actions" toward peacekeepers.
And yesterday, Reporters Without Borders released a statement expressing concern for Basilaia's fate.
"We urge the Abkhaz authorities to provide a more detailed explanation of this arrest and we urge the Georgian authorities to try to defuse the situation," the statement read. "It is necessary to maintain a climate that favours negotiations."
Christina Tashkevich contributed reporting.