Presidents and artists praise late Georgian actress
By Anna Kamushadze
Tuesday, March 4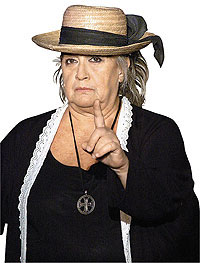 On March 2, famed Georgian film and theater actress Sofiko Chiaureli died at the age of 70 after a long illness.
She will be buried in the Didube pantheon near her late husband, actor Kote Mokharadze, according to the news agency NewsGeorgia.
"We are all full of sorrow over the death of Sofiko Chiaureli," President Mikheil Saakashvili said. "[She] belonged to a select number of famous Georgian art people who promoted Georgian theater, cinema and art, and earned the public's love and recognition in their lives."
"The characters created by her on the screen and on the stage constituted an entire epoch, and we are saying goodbye to this epoch with great love and reverence."
Chiaureli was awarded the title of National Artist in both Georgia and Armenia in the 1970s, as well as receiving international acclaim.
She has a star in the sidewalk in front of Marjanishvili Theater, which the actress dedicated to her mother, also a famed performer.
Chiaureli performed onstage at Marjanishvili Theater from 1964 until 2008.
Foreign leaders offered their condolences and remembrances.
"The Georgian and Armenian people's friendship will miss her warmth, wisdom and charm," wrote Armenian President Robert Kocharyan on March 3.
"With her bright talent and high professionalism, Sofiko Chiarureli won the hearts of more than a single generation of viewers," Ukrainian President Victor Yushchenko wrote. "Her unforgettable roles became an ornament of the Georgian nation's artistic property, and received world-wide acknowledgement. The bright memory of Sofiko Mikhailovna will forever remain in the hearts of Ukrainians."
Georgian actor Gia Burjanadze says Chiaureli, borne to enormously talented parents, was destined to be in a league of her own.
"She saw a lot of pain in her life, but she never troubled others with her own thoughts," he told the newspaper. "On the contrary, she always listened to us, and shared our worries and problems. She showed everyone an example of humanity. She was a very strong woman."
Sofiko Chiaureli was born May 21, 1937 to well-known Georgian producer Mikheil Chiaureli and actress Veriko Anjaparidze. She studied cinematography in Russia, and first appeared on screen in Rezo Chkheidze's "Our Yard."
Turning down an offer to work in Russia, she returned to Georgia and the Marjanishvili Theater.
In an undated interview quoted by NewsGeorgia, Chiaureli said she had much to be pleased with in her life.
"I was fortunate. I am a happy person, because I met and worked with perfect producers and had great partners. Generally, no one has their dreams fulfilled one hundred percent, but I had mine fulfilled eighty percent. I was fortunate."