No answers on Gali firefight
By Christina Tashkevich
Tuesday, March 4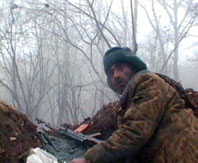 There are more questions than answers over a February 29 shootout in southern Abkhazia, with Tbilisi staying silent as separatist officials accuse Georgian forces of aggression.
Russian media sources reported a group of "unidentified" men opened fire on a car of Abkhaz police after it hit a mine near the village of Nabakevi, in the predominantly ethnic Georgian-populated Gali district of secessionist Abkhazia.
Georgia's Rustavi 2 television channel aired footage that day of men in civilian clothing shooting at people taking cover; the journalist reported a clash between "Georgians and Abkhaz," but did not clearly identify who was shooting at whom.
Rustavi 2 later claimed six Abkhaz policemen were killed. Abkhaz de facto authorities, however, say three of their men were injured.
In a statement from Sokhumi carried by Russian news agency Interfax on March 1, the Abkhaz de facto foreign ministry claimed a Georgian unit entered separatist-controlled territory to attack the police patrol.
"Following this incident, Georgian began bringing significant numbers of special forces closer to the Abkhaz border," the ministry claimed.
"We assess these actions, on the background of the Georgian president's statement of an ultimatum [to free Basilaia], as an open display of potential aggression."
Georgian officials have not publicly commented on the incident. Spokespeople were unavailable yesterday at both the Interior Ministry and the State Ministry for Reintegration Issues.
A representative of the UN observer mission could not comment on any investigation.
The conflict zone has been on edge since President Mikheil Saakashvili threatened on February February 27 to send Georgian police into Sokhumi to free detained Georgian television reporter Malkhaz Basilaia.
Over the weekend, de facto Abkhaz president Sergey Bagapsh announced the mobilization of about 2000 Abkhaz reservists, as well as the continuation of military exercises began on February 29.
Russian peacekeepers said they plan to investigate the incident and step up their monitoring in the region.
"After we received information on the incident, a group of peacekeepers moved forward to relieve the tension," Alexander Diordiev of the Russian-led CIS peacekeepers' headquarters said.
And while Basilaia, the Mze TV journalist, remains in a Sokhumi jail along with another detained Georgian, Abkhaz journalists petitioned Bagapsh to release the reporter.
Bagapsh met with the group of Abkhaz journalists yesterday, telling them that Basilaia could go free once an investigation is complete.
"If an investigation proves that the detained [Georgians] did not commit any other unlawful activities apart from illegally crossing the Abkhaz state border, the issue of their release may be positively settled," Bagapsh said, according to the official Abkhaz news agency Apsnypress.
Abkhaz authorities announced on March 1 that one of the detained Georgians, Maia Danelia, was released. Her son Davit Tsotsoria remains in custody with Basilaia.