Moderate party leaves opposition coalition for parliamentary campaign
By Eter Tsotniashvili
Tuesday, March 4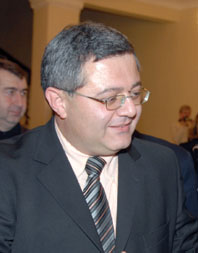 The Republican Party left the opposition coalition and will run alone in spring's parliamentary elections, party leader Davit Usupashvili announced last week.
"The age of post-Communism governance should end with parliamentary elections this May, which will be a logical end to the events of November 2007. Because of this, it's necessary for opposition parties to win the elections and gain a majority in parliament," Usupashvili told reporters on February 29.
Republican leaders said they made the decision to strike out on their own after their allies agreed that a broad front for the elections—with the Republican Party, viewed as moderates, and the now eight-party opposition coalition running on separate tickets—will garner the most seats in parliament.
The party is certain they will surpass the expected five percent vote threshold for parliamentary representation, Republican MP Davit Berdzenishvili told the newspaper, which he says will ultimately leave a majority of seats opposition-controlled.
"The Republican Party is the only opposition party [of the opposition coalition] which can overcome the [vote threshold for representation]," Berdzenishvili said.
But political analyst Ramaz Sakvarelidze suggested the Republican's departure from the coalition could be due to more than mathematics.
"[The Republican] dissented when the opposition wanted to go on hunger strike," Sakvarelidze said, "and it's quite possible they had disagreements over the joint election list."
Most parties in the opposition coalition, an ad hoc group first set up to organize anti-government rallies last November, claim few or no MPs, while the Republicans have around half a dozen. Meting out places on the joint slate on a party-by-party basis could leave current Republican MPs out of the next parliament.
The party has not settled on its own electoral list yet, but leading Republican member Davit Usupashvili says there will be no surprises in the picks.
"We have a lot of prominent faces in our party who are well-known and praised," he said.
The party can claim one more prominent face, a key factor in electoral success in Georgia, after long-time opposition activist Irakli Batiashvili announced he would join the Republicans.
"We are connected by common values and mentality, and most importantly we have the same goal—to establish democracy in Georgia," Batiashvili, who was pardoned in January from a controversial treason conviction, told reporters last week.
Usupashvili says the Republicans will continue to collaborate with the opposition coalition, along with the oppositional New Rights and Labor parties.
It was not clear, however, whether the rest of the opposition feel the same way.
The eight remaining parties of the opposition coalition announced on February 29 they would field a joint ticket in the parliamentary elections, campaigning under the slogan "Georgia without Saakashvili."
Coalition member Koba Davitashvili said the top spot on the list will go to Levan Gachechiladze, the coalition's former candidate for president.
"Victory over unfairness and violence can only be achieved through unity," Davitashvili said at a press conference.
Asked whether the coalition will continue collaborating with the Republicans, Davitashvili replied: "Ask them."