Georgia–Russia flights to restart after debt settled; airlines argue over who should pay
By Ana Datiashvili
Friday, March 7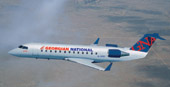 With two major Georgian airlines at odds over who should repay the country's debts to Russian airline authorities, the government ministry is calling on companies to pay the debt as a goodwill gesture.
Russian air navigation authorities demand that Georgia cough up an old debt of USD 3 million by March 10, as a precondition for restoring flights between Georgia and Russia.
Moscow suspended the flights, along with other transport links, during a political row in 2006 as part of a blanket trade embargo. After last month's high-leve talks in Moscow, Russian officials said they are willing restore the flights—after the debt is paid.
The two Georgian airlines which ran Georgia–Russia flights are now at odds over who will pay off the debt.
Airzena said in February they would pay part of the debt as a goodwill gesture, while National Airlines refuses to pay anything, saying their company has no responsibility for the debt.
There were a number of small Georgian airlines running flights to Russia during the 1990s; eventually, larger airlines pushed out the small airlines. The ones which went bust often left unpaid debts to the Russian air navigation authorities.
Airzena spokeswoman Nino Giorgobiani told journalists last week that the company, while not directly responsible for the debts, would pay a portion as a goodwill gesture.
"As this announcement comes from the government, we will contribute some money. Restarting flights between Russia and Georgia has strategic importance, so we are ready to participate in this important event," Giorgobiani said.
National Airlines' representative Jilda Machavariani told the newspaper that the company has no debts to Russia and won't pay a single cent.
"These are the debts of long-bankrupt companies, and we are not the legal heirs of these companies," Machavariani said.
Deputy Economic Development Minister Vakhtang Lezhava told the paper those companies which want to resume flights to Russia should pay this debt as a goodwill gesture.
"Airzena pays some part of these debts, so we have meetings and talks about this. We still have time, so I hope this problem will be solved soon," Lezhava said on March 5.