IMF warns against weakening central bank
By Christina Tashkevich
Monday, March 10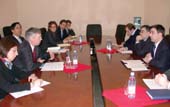 An International Monetary Fund (IMF) mission welcomed the government's macroeconomic and fiscal reform package but warned against "any erosion of central bank independence."
It also praised Georgia's "exceptionally strong" economic performance in 2007, which it said was due mainly to private capital inflows exceeding 20 percent of GDP.
GDP growth exceeded 12 percent last year, the IMF mission said, and predicted 9 percent growth in 2008.
The mission, which arrived in Georgia on February 29 and presented its findings at a press conference on March 7, said that Georgia's 11 percent inflation rate in 2007 was partly due to rising world prices for food and energy.
However, it also said that the high inflation figure "reflected the loose monetary stance that prevailed during most of 2007, with broad measures of money supply increasing by 50 percent."
In light of this, the IMF welcomed the government's economic package—which is currently being discussed by parliament—in particular, "efforts to strengthen financial sector supervision and combat money laundering."
In a bid to reach the government's single-digit inflation target in 2008, the economic package also proposes increasing the accountability of the National Bank of Georgia by requiring it to seek parliamentary approval of its monetary goals and instruments and forcing the president to resign for missing the inflation target.
However, the IMF criticized these proposals, stating they would "weaken the operations of the central bank."
At a parliamentary session the same day, MP Lado Papava, a former economy minister, also criticized the government's proposals for the central bank, warning that the country faced losing "a main institute of Georgia's economic independence."
"This is the National Bank, and you must not play games with it," he added.