Opposition begin hunger strike
By Eter Tsotniashvili
Monday, March 10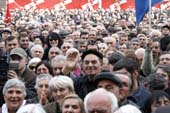 Five opposition figures began a hunger strike at a protest rally yesterday, demanding a repeat of the January 5 presidential election, free and fair parliamentary elections and the release of all 'political prisoners.'
Conservative leader Zviad Dzidziguri invited ordinary Georgians to join him and his four colleagues in the hunger strike, while Gia Tortladze of the Movement for United Georgia party attacked the government's recent overhaul of the parliamentary electoral system at yesterday's demonstration.
The opposition announced the protest on March 5 following the release of a final OSCE/ODIHR report that said the January 5 presidential election was "in essence" democratic, but revealed "urgent" challenges.
"[A] new November is starting today…we will not stop unless we achieve our goal and that is to have free and fair parliamentary elections," Levan Gachechiladze, a representative of the eight-party opposition coalition, told a crowd of a few thousand—a smaller turnout than previous opposition rallies—outside parliament.
The New Rights party, who are not part of the coalition, also joined the protest, with party leader Davit Gamkrelidze expressing support for the opposition's dialogue with the government.
He also defended the opposition's decision to call off protests two weeks ago in favor of entering deliberations with authorities, pointing to the recent crisis in Yerevan when police and protestors clashed on March 1 leaving at least eight dead.
"Lots of our supporters were saying that we should not return home after the huge rallies following the presidential election but I want to say that if we had not, thing's could have turned out like Yerevan," Gamkrelidze said.
Gia Tortladze told crowds to return to protest the government's overhaul of the parliamentary electoral system on March 11, the day parliament is due to discuss the issue for a second time.
The government is proposing to make half the MPs in the next parliament 'majoritarian' instead of the planned one-third, which the opposition claim will give the ruling party an advantage at the upcoming parliamentary elections.
"We will not stop protest rallies unless we have a situation wherein it would be possible to hold genuinely free and fair parliamentary elections," Tortladze said.
Meanwhile People's Party leader Koba Davitashvili dismissed President Mikheil Saakashvili's recent call for national unity after Russia's decision to lift sanctions on Abkhazia, as a PR stunt.
"We criticize Russia's disgraceful move. This disgraceful decision, however, was encouraged by the irresponsible policy of the Georgian government, as it still refrains from withdrawal from the CIS [Commonwealth of Independent States] and from pulling out Russian peacekeepers from Abkhazia and South Ossetia," he said.
On March 8 Saakashvili called for cooperation between the government and opposition in responding to Russia's decision, stating that "there are issues on which it is impossible not to agree."
Representatives of the Republican Party, who recently split from the coalition, also attended the rally. Party leader Davit Usupashvili, who was not there, said in a televised statement they do not support the call for a repeat presidential election.
"The Republican Party thinks there is not point in beginning a hunger strike at this moment to demand a [repeat] presidential election with parliamentary elections only two months away, when these can be considered as [presenting the same opportunity as] a second round of presidential elections," he said.