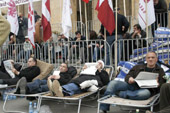 A group of moderate opposition MPs began a hunger strike outside the parliamentary speaker's office yesterday, demanding that the government make the changes set out in a joint opposition memorandum in January.
(more)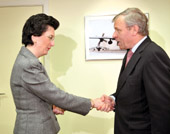 Government officials said Georgia is "very close" to receiving a NATO Membership Action Plan (MAP) after a meeting of NATO foreign members in Brussels last week, while Alliance officials said no decisions have been made.
(more)
As Georgians watched reports of Yerevan's deadly March 1 crackdown on opposition supporters, many saw similarities to Tbilisi's own recent political unrest.
(more)