Duma debates recognition of Abkhazia, South Ossetia
By Messenger Staff
Thursday, March 13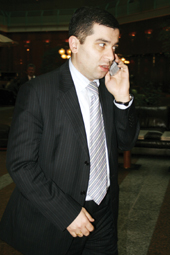 The Russian Duma is considering today whether to recommend that Moscow recognize Georgia's breakaway territories as independent states.
Delegations from secessionist Abkhazia and South Ossetia are both in Moscow as Russia's lower house of parliament hears their pitch.
The hearing comes a week after Russia formally decided to withdraw from the economic embargo on Abkhazia. After Kosovo's declaration of independence in February, the Russian Foreign Ministry said it would be "[forced] to adjust its line regarding Abkhazia and South Ossetia, where the majority of the population has Russian citizenship."
Both Abkhazia and South Ossetia have pushed their bid for international recognition, particularly with Moscow, since Kosovo's declaration of independence, and the Duma's decision to consider their case has drawn strong reproach from Tbilisi.
"Any radical decision which can cause the beginning of a process toward recognition of Abkhazia and South Ossetia can bring a very serious outcome for regional security," Foreign Minister Davit Bakradze told reporters yesterday. "And it will negatively affect Russia's southern border security."
"We expect that rationality will win out with the Russian MPs," he added.
In a March 11 statement to Russian media, first deputy chair of the Duma's international affairs committee Leonid Slutsky seemed to suggest that is exactly what will happen.
"In the parliamentary hearing, there will be rational, interested and effective sharing of viewpoints [on recognition of Abkhazia and South Ossetia], but no decisions will be made," he said.
But another top-ranking Russian MP, Aleksey Ostrovsky, said the hearing will "allow us to discuss the full extent of Russian-Georgian relations."
Archil Gegeshidze, an analyst with the Georgian Foundation for Strategic Studies, says it is unlikely the Duma will formally recommend that the Kremlin recognize Abkhazia and South Ossetia, but said he didn't rule out the possibility "that they make a statement with very aggressive [language]."
Even if the Duma did, in an advisory capacity, vote for recognition of Georgia's breakaway regions, he said, the government would not necessarily follow.