Burjanadze: Conduct of Duma hearings on Abkhazia is 'categorically inappropriate'
By Christina Tashkevich
Monday, March 17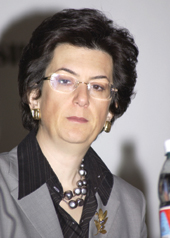 While Russian parliamentarians are debating whether to recommend formal recognition of separatist Abkhazia and South Ossetia this week, Georgia's parliamentary speaker criticized her Russian counterpart, Boris Gryzlov, for a biased approach to the hearings.
For its March 13 hearing the Duma, Russia's lower house of parliament, invited representatives from breakaway South Ossetia and Abkhazia, but Burjanadze noted that no Georgian representatives were asked to speak at the hearing.
"Russia behaves [as if] it is discussing an issue of its own territory, which is categorically inappropriate," she said the next day.
Burjanadze criticized Gryzlov for not talking with her before the hearing.
"It's very strange that the Duma's speaker did not think, as a minimum, to ask for the opinion of his Georgian counterpart about this issue," Burjanadze told reporters.
Neither Gryzlov nor any Duma representative responded to Burjanadze's remarks.
On March 14 the chair of the CIS committee in the Russian parliament's upper house, Vadim Gustov, said the body would support recognizing Abkhazia and South Ossetia if Georgia joins NATO.
He warned of NATO encroachment on Russian borders.
"If Georgia enters NATO, it will enter as a territorially whole country. In this case, NATO's planes will fly over the whole territory of Georgia, including in Abkhazia and South Ossetia," Gustov said.
But a former Georgian ambassador to Russia, Zurab Abashidze, said he was did not expect any "radical decisions" from Russia on Abkhazia and South Ossetia.
"There will be no dramatic decisions. And we should continue striving for NATO membership and, at the same time, stabilize relations with Russia," Abashidze said at a televised roundtable discussion on March 14.
Republican MP Ivliane Khaindrava, speaking at the same conference, agreed that Russian recognition of Abkhazia and South Ossetia would backfire on Moscow, which faces its own secessionist movements in the North Caucasus.
The Georgian parliament also passed a resolution last week condemning Russia for its recent withdrawal from the CIS treaty on Abkhazian economic sanctions. The resolution calls Russia's move an attempt to have "an indirect influence" on NATO's decisions on Georgian integration into the Alliance.
"This step of Russia is yet another attempt to destabilize the situation in the region, and therefore hinder further progress in Georgian-NATO relations," the resolution reads.
The next Duma hearing on possible recognition of the breakaway regions is scheduled for today.