Opposition gather supporters to demand resignations, new elections
By Anna Kamushadze
Monday, March 17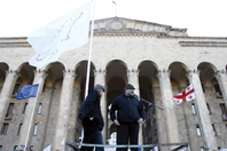 After a call for massive turnout, the opposition brought thousands of supporters in front of parliament yesterday to demand the president's resignation and fairer elections.
Opposition leaders told the crowd, large enough to block traffic in front of parliament, that protests would continue until their demands are met.
"This protest will continue while we have the strength and until our demands are fulfilled," said Eka Beselia, an opposition coalition leader. "This will be an uncompromising battle."
President Mikheil Saakashvili, commenting yesterday before departing for the US, urged the opposition to stop their protest and unite in the face of the "geopolitical struggle" Georgia is caught up in.
"I am very troubled that [the hunger strikers] are resorting to an un-Christian form of political struggle," the president said.
In response, leading opposition coalition member Levan Gachechiladze said that Saakashvili "must first know what Christianity is, and then talk about it."
"This is a struggle to rescue Georgia, and this is very Christian behavior," Gachechiladze, the coalition's former presidential candidate, told the newspaper yesterday.
Gachechiladze accused Speaker of Parliament Nino Burjanadze of responsibility for Georgia's "unfair elections," calling for her resignation.
The criticism of Burjanadze, once lauded on all sides as a mediator, was novel but frequent in the last week. New Rights leader Davit Gamkrelidze, who maintained a reputation as a moderate throughout the political turmoil of the last half-year, also demanded Burjanadze's resignation in a speech to supporters.
"[Hunger strikes] serve our goal to give our children a free Georgia, to get freedom and free elections and not to allow Saakashvili, Burjanadze, [MP Giga] Bokeria and [Interior Minister Vano] Merabishvili [to control] our homeland," Gamkrelidze said.
The opposition say about 60 people are now on hunger strike at parliament, including New Rights MPs encamped in Burjanadze's antechamber.
The demonstrations began on March 9, and a few have been taken to the hospital for medical attention. Tbilisi City Hall has extended the opposition's demonstration permit to March 31.
Yesterday morning, Catholicos-Patriarch of All Georgia Ilia II called for political unity to protect the country.
"[If political tension] harms the country and its people, then one should abandon contrary opinions and do all that he can for the good and the unity of the people," he said.
The eight-party opposition coalition has also decided to arrange a protest outside the US Embassy on March 19, the first time they have done so as a coalition. Demonstrations outside the embassy are an extreme rarity, though coalition member and People's Party leader Koba Davitashvili unilaterally organized a rally after the January 5 presidential election.
"Georgia is not a country for experiments. And America must know that," Gachechiladze said, in an apparent reference to American support for Saakashvili during the 2003 Rose Revolution.