Georgian footballer starts business group
By Diana Dundua and Christina Tashkevich
Friday, April 4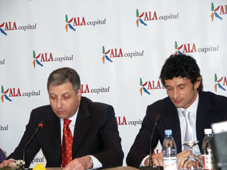 Georgia's most famous footballer stepped into Georgia's investment market this week with an ambition as big as his AC Milan paycheck, announcing the creation of a USD 1.5 billion business group.
Kakha Kaladze's Kala Capital group also marks a return to the limelight for former prime minister Zurab Noghaideli and former finance minister Lekso Aleksishvili, who will act as board members.
Kaladze, 30, started his football career at FC Dinamo Tbilisi in 1993 and became the most expensive footballer in Georgian history when Italy's AC Milan snapped him up for EUR 16 million in 2001.
While Kaladze has business dealings in Italy, Ukraine and Kazakhstan, in addition to being the face of Georgia's Magti cell phone company, this is his first major investment in his home country.
The board plans investments in banking, real estate and energy—three sectors picked due to their recent fast rates of growth, Noghaideli said at the March 31 unveiling ceremony.
The group has founded Progress Bank, which is headed by Aleksishvili and is scheduled to open its first branch this September.
Another project the business group will oversee is a 78-hectare retail and residential park which will include a five-star hotel, hospital and school, at a cost of USD 1 billion.
The board members also spoke of developing alternative energy sources such as hydro-electric power stations and wind farms, alongside oil exploration and production.
In January Kala Capital has acquired Sakhydroenergomsheni, a company constructing hydro and thermal power facilities.
"Kala Capital is the ideal partner to move our company forward and fully utilize our construction capabilities and infrastructure expertise to build Georgia's cities into state-of-the-art metropolises," Vano Tabagari, director general of Sakhydroenergomsheni, said.
A philanthrophic subsidiary of the fund, the Kala Foundation, will finance the building of sports centers and organize football training. Kaladze said he will be assisted by the AC Milan Foundation in social projects.