Review: Turkishmish candy shop
By Alexander Ward
Friday, April 4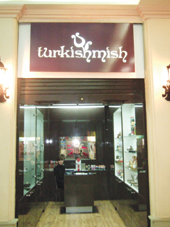 Kickshaws and kishmish
While Georgia is well-known for its cuisine, any foreign guest at a typical supra will quickly discover that all those fluffy fantastic-looking cakes wheeled out for the dessert course are all show and no substance.
Admittedly, blandness is probably the order of the day after an assault of
khachapuri, khinkali
and lashings of homemade wine on your digestive system—but occasionally you need to tend to that sweet tooth.
Luckily, Turkey fares a little better in the sugary treats department, which is why the owners of "Turkishmish," a new confectionary store in Rustaveli Cinema, offer a range of goodies shipped straight from Istanbul.
True to its name—"Turkishmish" is a play-on-words with
kish
meaning 'real' in Turkish and
kishmish
being the Georgian word for 'raisin'—the store stocks dried fruit and Turkish delight amongst its array of candies and nuts.
Prices are reasonable by Western standards: a small gift-wrapped scoop of your chosen delicacy will you set you back around GEL 10 while the dearest pre-packed box of chocolates sells for just under four Tseretelis (GEL 40).
So if you fancy a slightly more refined way of indulging your desert palette than visiting one of Tbilisi's countless ice cream vendors this summer, you know where to go for sugar-coated kickshaws,
kishmish
and candy.