New Rights join opposition coalition
By Eter Tsotniashvili
Tuesday, April 8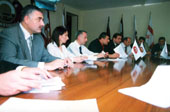 The New Rights party will run with the eight-party opposition coalition in the upcoming parliamentary elections, coalition representatives said at a press briefing outside parliament yesterday.
"We declare that this opposition coalition, unprecedented in recent Georgian history, will fight for victory in the parliamentary elections and will fight to end [President Mikheil] Saakashvili's regime," leading coalition member Levan Gachechiladze said.
The historically moderate New Rights began cooperation with the coalition—which was formed last September as an ad hoc committee to organize protests—after the disputed snap presidential election in January.
In March they joined an opposition hunger strike at parliament, demanding a repeat of the January 5 presidential elections, free and fair parliamentary elections and the release of all 'political prisoners.'
New Rights leader Davit Gamkrelidze said the party decided to run on a joint ticket to present a stronger front against the ruling party. "Mikheil Saakashvili, [Parliamentary Speaker] Nino Burjanadze and [Defense Minister] Vano Merabishvili declared war on the Georgian people. Together we will have a better chance of winning this war," Gamkrelidze said.
New Rights MP Manana Nachkebia said that the move would help both the party and the coalition, stating that both have high popularity ratings.
The New Rights are one of the strongest opposition parties in parliament, with about a dozen MPs. Party leader Davit Gamkrelidze took fourth in the January presidential election with about four percent of the vote, compared to coalition candidate Gachechiladze's 26 percent.
Nachkebia added that while party lists are yet to be finalized, New Rights leader Davit Gamkrelidze would be listed on the ballots after Gachechiladze, now an independent MP.
People's Party leader Koba Davitashvili, also a member of the opposition coalition, called on the Republican and Labor parties to join forces with the coalition to challenge Saakashvili.
"It is necessary to set our country's interest above our [individual party] interests, the opposition should be stronger in order to end Saakashvili's rule," Davitashvili said.
Both Labor and the Republicans were formerly part of the coalition. Labor split acrimoniously before the presidential election, while the Republicans left amid positive words last month. Both say they will compete independently, and are competing against the coalition for seats in some districts.