Adjaran chief attacks state hiring practices
By Shorena Labadze
Tuesday, April 8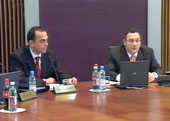 The chairman of the Adjaran government unexpectedly lambasted the central government yesterday, particularly the Finance Ministry, for contributing to unemployment in his region.
In a televised cabinet meeting, Adjaran leader Levan Varshalomidze urged Tbilisi to do more to find employment for local Adjarans, rather than allowing foreigners and out-of-towners to take regional jobs.
"For me, as head of the region, it's unacceptable. There are a lot of gifted people in Adjara. Most of them are good specialists, work hard and have a lot of experience in state departments and offices. Yet there is no room for them, even at the lowest post of office cleaner," Varshalomidze said.
He named the Sarpi customs point as an example, saying that about a quarter of the employees are non-locals.
Varshalomidze, who was briefly the head of state-owned Georgian Railways, said that investment law requires "70–75 percent of employees to be locals."
"In spite of all the investments made in the region—building hotels, opening new industrial buildings—poverty and unemployment remain key problems," Varshalomidze said. "I expect the government to solve this problem immediately."
Varshalomidze singled out Finance Minister Nika Gilauri for reproach, asking why his ministry can't hire locals for its Adjara departments, like the Interior Ministry does.
Gilauri denied geographic favoritism, saying the Finance Ministry hires based on professionalism.
An Adjaran opposition councilor said that the autonomous republic's chief was pointing out legitimate grievances, but with suspicious timing.
"All orders come from Tbilisi. Local governments, municipalities and other departments [in Adjara] have lost their function. But Varshalomidze remembered this only after four years [in office]. It's nothing but his election campaign," said local council member Tamaz Berdidze, a Republican.
The head of the Adjaran government is appointed by the Georgian president to four year terms; Varshalomidze is up for reappointment this year.
Adjaran resident Koba Chavleishvili, who is 34 and unemployed, agreed with the Adjaran chief's prognosis.
"All the luxury restaurants, airport and hotels are manned by foreigners. The private sector is occupied mostly by Turkish people," he said. "Georgians would work for the half of the salary they pay the Turks, but [the Turkish investors] prefer their countrymen."