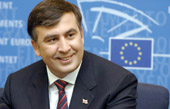 On April 12 President Mikheil Saakashvili offered more proposals for conflict settlement in Georgia's breakaway regions, all of which were swiftly rejected by separatist leadership.
(more)
Georgia sold its first international bond issue last week with over 100 investors participating in the deal.
(more)
On April 11 organizers unveiled a code of better political conduct signed by many of the country's leading parties, both government and opposition.
(more)