President Mikheil Saakashvili said a Russian fighter jet shot down an unmanned Georgian spy plane over separatist Abkhazia this weekend, a charge dismissed by Russian officials.
(more)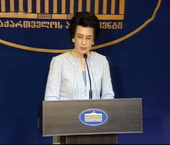 In a surprise announcement yesterday evening, Speaker of Parliament Nino Burjanadze said she will not stand for reelection to parliament in next month's election.
(more)
Georgians have had mixed reactions to Moscow's order to end visa restrictions for Georgian citizens and begin talks on lifting the trade embargo imposed two years ago.
(more)