Opposition: Departure of top government figure brings internal 'fight into the open'
By Eter Tsotniashvili and Winston Featherly
Wednesday, April 23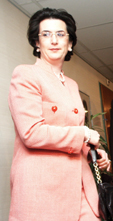 Speaker of Parliament Nino Burjanadze's decision to part ways with the ruling party next month has led opposition politicians to speak of a deep internal struggle in a weakened government.
The two-term speaker of parliament, often viewed as a moderating force in the government, surprised the country on April 21 by announcing she would not stand for reelection in the May elections.
Opposition politicians leapt at the chance to suggest a deep fissure in the government.
The leader of the moderate Republicans, Davit Usupashvili, said yesterday that the ruling party is not a united team now that Burjanadze has stepped aside.
But he said that the country needs Burjanadze to remain in public service for the sake of Georgia's bid for Euro-Atlantic integration.
"In order to maintain our positions [internationally and in NATO accession] and strengthen them, I think Burjanadze should not leave politics," Usupashvili told reporters.
And Giorgi Targamadze, leader of the recently-formed Christian Democratic Party, said that the "fight amidst the government over who will be the next president has come into the open."
"The myth that the government is monolithic and invincible has been torn apart" by Burjanadze's announcement, he told reporters.
According to Usupashvili, the Republican leader, his party twice asked Burjanadze to join them—once in 2004 when Saakashvili initiated a host of constitutional amendments increasing presidential powers, and again after the crisis on November 7, 2007, when riot police violently dispersed anti-government protestors. She refused both times, he said.
It is unclear what Burjanadze will do when the next parliament is sworn in, but she ruled out any jump to the opposition, and a spokesperson for the parliamentary speaker told the Messenger on April 21 that she would not leave politics altogether.
Her sudden decision to leave the ruling party's list, however, had leaders to scrambling to revise their party list. Opposition politicians accused the Central Election Commission of covering up a rewriting of the list after the submission deadline expired, while online news source Civil.ge reported that at least five politicians allied with Burjanadze were struck off the list.
Burjanadze attributed her decision not to stand for reelection to disagreements over the ruling party's list of candidates for the May 21 parliamentary elections, on which she held the top spot, but also suggested other differences with the Saakashvili administration.
"I believe that certain mistakes the authorities made should be corrected urgently," she said on April 21, adding that some improvements have been made. "At the same time, I certainly do not shirk responsibility for my actions when I was in power."
Speaking to reporters that same day, President Mikheil Saakashvili said he "understood" but was "not satisfied" with her decision, and praised her as an outstanding public figure.