Russia has threatened Georgia with military action if fighting breaks out in the separatist enclave of Abkhazia, provoking statements of concern from Tbilisi.
(more)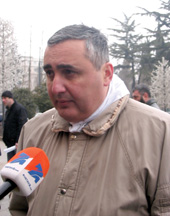 The country's leading television stations are once again airing campaign coverage of the nine-party opposition coalition, after a mutual boycott just weeks before the May parliamentary elections.
(more)
Russia officials say they are nearing World Trade Organization membership, but the Georgian government says it will not make concessions in negotiations on allowing Russian entry.
(more)