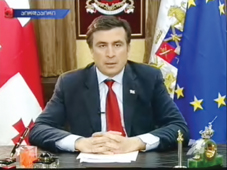 Georgian President Mikheil Saakashvili said his country is committed to peace but threatened by Russia in a speech delivered yesterday, after Moscow announced it would deploy more peacekeepers to a Georgian separatist region in response to an alleged Georgian military build-up.
(more)
Continuing an initiative to boost the birth rate in Georgia, Catholicos-Patriarch of All Georgia Ilia II baptized 100 more newborn babies at Tbilisi's Sameba Cathedral yesterday.
(more)
Tbilisi halted talks on Russia's accession to the World Trade Organization in Geneva on April 28, demanding Moscow reverse its decision to increase ties with Georgia's breakaway regions of Abkhazia and South Ossetia.
(more)