Georgia suffers first combat losses in Iraq
By Shorena Labadze
Monday, May 5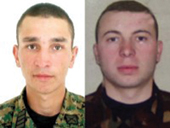 Two Georgians soldiers were killed in Iraq on when a roadside bomb struck their vehicle on May 2.
They are the first Georgian combat deaths since the country sent troops to Iraq in 2003.
Lt. Giorgi Margiyev and Corporal Zurab Gvenetadze were killed 35 kilometers from Baghdad in Diyala province.
According to the Deputy Chief of the Georgian Defense Ministry's General Staff, Giga Tatishvili, their vehicle was hit by an improvised mine.
Two other men, Sgt. Tengiz Mirtskhulava and a local interpreter, were wounded but are expected to survive.
The bodies of the two soldiers were transferred to Germany, and were to return to Georgia today.
The soldiers' families will each receive GEL 15 000, according to Tatishvili, the ministry spokesman.
Yesterday, the populist oppositional Labor Party convened a press conference to demand the government withdraw Georgia's troops from Iraq and Afghanistan.
Tbilisi sees its contribution to the US-led coalition in Iraq as a demonstration of its worth as an international ally.
The first Georgian troops were deployed to Iraq in 2003; last summer, the government decided to increase its commitment to 2000 soldiers, but has since suggested it will withdraw its forces this year.
Georgia has lost two other soldiers in Iraq to non-combat deaths.