Abkhaz claim to down more Georgian spy planes amid high tensions
By Temur Kiguradze
Wednesday, April 30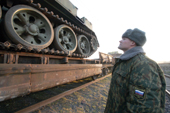 Tensions continued to mount in Georgia's separatist region of Abkhazia over the weekend.
Secessionist Abkhaz forces said they shot down two Georgian spy planes yesterday, shortly after Russian news agencies claimed Georgia is preparing to use force against the breakaway region.
Georgian officials denied both reports.
Speaking with Russian news media, Abkhaz de facto defense minister Merab Kishmaria said Abkhazian anti-aircraft defense downed two unmanned Georgian spy planes yesterday within an hour of each other.
Abkhaz de facto deputy foreign minister Maxim Gvinjia told the
Messenger
that the two drones were shot from the ground over the coastal district of Ochamchire. He suggested that the second drone flew over the region to investigate the first attack.
Gvinjia said Abkhaz forces are searching for the wreckage.
A Georgian official denied the claim, telling Reuters no flights were conducted over the area yesterday.
Georgia has lost at least one unmanned spy plane over Abkhazia before, and the newest claim is certain to ratchet up tensions in a region already on edge.
The Abkhaz separatist leader's envoy to Gali district told Russian reporters that "the Georgian side's actions confirm that Tbilisi intends to carry out military action against our republic."
The day before, Russian news agency RIA-Novosti cited an "informed source" in the Russian government as saying: "The Georgian army, with support from foreign specialists, is working on a plan for a military invasion of Abkhazia. This plan may be executed in the nearest days."
"Important targets on the Abkhazian coast will be attacked first, and after that up to 3000 soldiers will be involved in fighting in the lower part of Kodori Gorge," the source claimed.
The upper portion of Abkhazia's Kodori Gorge is under Georgian state control.
RIA-Novosti also reported that several embassies in Tbilisi are preparing to evacuate staff.
Georgia strongly denied the claim.
Acting foreign affairs minister Grigol Vashadze told reporters the news agency's anonymous source is a "provocateur" who should "take some Valium."
Merab Kishmaria, the Abkhaz separatist defense minister, said Georgia has deployed 7500 soldiers and heavy-armored vehicles to the administrative border with Abkhazia. His army, he said, is in a state of heightened alert.
"Right now we are just watching [the Georgians], but in case of an attack we would need two days for defense and two more days to take [the western Georgia city of] Kutaisi," Kishmaria told reporters.
The head of Georgia's parliamentary foreign affairs committee, Kote Gabashvili, responded that Georgia has no intention to attack Abkhazia.
"This information is a lie and an ideological trap," he said. "Russia is trying to create the impression that Georgia is an aggressor. [But] the aggressor is Russia and the Abkhazian conflict should be solved in a peaceful way."
Yesterday the Russian Foreign Ministry released a statement accusing Georgia of deliberately exacerbating tensions by "intensifying military preparations" near Abkhazia, resting responsibility for the consequences with Tbilisi.
That followed a similar statement from the Georgian Foreign Ministry on May 2 which said the "continuing Russian military build-up" in Abkhazia is destabilizing the area and could trigger conflict.
"Should any military provocations occur, responsibility will lie entirely with the Russian Federation," Tbilisi's statement read.
Tensions have climbed around Georgia's breakaway regions since Russia announced last month it would formalize ties with Abkhazia, a move Tbilisi says amounts to annexation.
That decision was followed by the downing of another unmanned Georgian spy plane—which Tbilisi, with video footage as evidence, blamed on a Russian fighter jet—and the reinforcement of Russia's peacekeepers in Abkhazia.
Russia denies shooting down the Georgian drone, and says its peacekeepers are contributing to stability in the region.