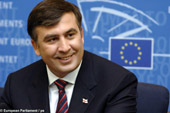 President Mikheil Saakashvili appealed for European Union support in the standoff between Georgia and Russia, speaking yesterday with a delegation of foreign ministers from EU countries.
(more)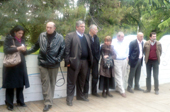 The nine-party opposition coalition barnstormed through the eastern province of Kakheti last week, introducing local candidates for parliament to voters.
(more)
President Mikheil Saakashvili is on the trail campaigning for the parliamentary elections this month, meeting voters to promise more social care and better basic goods and services.
(more)