UN adopts resolution on Abkhazia refugees
By Temur Kiguradze
Monday, May 19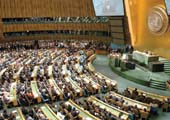 The UN General Assembly has adopted a resolution that recognizes the right of refugees from the Abkhazian conflict to return to their homes.
The document underlines the need for the "rapid development" of a timetable to ensure the return of the displaced to their homes while recognizing the importance of their property rights, "including victims of reported 'ethnic cleansing.'"
President Mikheil Saakashvili hailed the resolution as "historic," describing it as the country's "passport for the future."
Georgian representative to the UN Irakli Alasania underlined its inclusion of the term "ethnic cleansing," which he said Russia had been trying to "bury" since the conflict.
The resolution was adopted by a small margin, with only 14 votes for, 11 against and 105 abstentions.
Russia was among the countries who voted against, with Russian representative to the UN Ilya Rogachev stating that it would "lead to a worsening of Georgian-Abkhaz relations."
"It is clear that the given initiative has been designed by the authors to pressure the Abkhazian side in order to resolve political, but not humanitarian tasks," news agency Itar-Tass quoted Rogachev as saying.
Russian Foreign Minister Sergey Lavrov said that Tbilisi was trying to "internationalize" Georgia's separatist conflicts and is not interested in solving them.
Speaking at a live government meeting in Zugdidi, Saakashvili described the Russian reaction as "incomprehensible."
"Does Russia not have any other work to do except trying to block the rights of Georgian internally-displaced persons and prevent them from returning to their homes?" the president asked.
In Abkhazia, de facto foreign minister Sergey Shamba criticised the resolution as "one-sided" and evidence that the countries which voted for it would support "anything that is proposed by Georgia."
In a statement released by Abkhaz news agency Apsnypress, Shamba said that separatist authorities would only implement UN decisions "only when they are discussed and agreed with all the sides of the conflict."
One Georgian political analyst, Soso Tsintsadze, underlined that the UN is not a guarantor of the return of refugees and that while the resolution is "one step forward," its significance is being overplayed in some corners.