Abkhaz deny 'secret deal' with Tbilisi
By Temur Kiguradze
Tuesday, May 20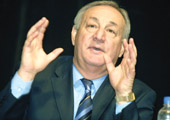 Leaders of breakaway Abkhazia denied reports of a peace deal with Tbilisi which would guarantee safe return for refugees in exchange for a Georgian pledge not to use force in the region.
Sergey Bagapsh, the de facto president of separatist Abkhazia, told reporters there were "no agreements reached with the Georgian side."
"I want to repeat once more than Abkhazia's political status as an independent state is non-negotiable," Bagapsh told Russian news agency Interfax.
Russian media reported a deal between Tbilisi and the separatist Abkhaz leadership, purportedly reached when Georgia's envoy to the UN, Irakli Alasania, visited Sokhumi on May 12.
Influential Russian newspaper
Kommersant
published an article yesterday claiming there is a "secret plan" for conflict resolution, citing "sources in the Abkhazian government," including de facto foreign minister Sergey Shamba.
According to the newspaper, Alasania proposed a trade: the Georgian government would sign a non-use of force agreement in return for an Abkhaz guarantee that Georgian refugees could safely return to their homes in Abkhazia.
The Georgian government has long refused to sign a non-use of force pact, but top officials have recently suggested they are now willing to consider the agreement given the right terms.
The newspaper claims the purpose of Bagapsh's upcoming visit to Moscow is to clear the deal with Russian Foreign Minister Sergey Lavrov.
Bagapsh denied that, telling Russian news agency Interfax that his visit "is not connected with any agreements with Georgia."
Shamba, the de facto Abkhaz foreign minister, told the
Messenger
he was the source for
Kommersant's
claim that a deal would be discussed in Moscow—but said his words were misinterpreted.
Bagapsh will be in Moscow to discuss "economic issues," Shamba asserted, but added that if questions of refugees are raised, Bagapsh will also discuss those.
Shamba repeated denials of a "secret deal" on safe return for refugees.
He said a document on the return of refugees was signed years ago, and the "process of return" began in 1998 as displaced residents trickled back into Gali, a predominantly ethnic Georgia district in the south of Abkhazia.
A day before Alasania's visit, top US envoy to the region Matthew Bryza visited Sokhumi.
Kommersant
suggests he laid the groundwork for the agreement.
Georgian officials have not yet confirmed or denied the report: Prime Minister Lado Gurgenidze, commenting on the report to television station Rustavi 2, said only that it was "interesting."
But the possibility of a similar agreement has been suggested before, most recently two days before the
Kommersant
article ran.
The minister for Euro-Atlantic integration told the local Prime News agency that Georgia is ready to sign a non-use of force agreement if the Abkhaz gave an "absolute guarantee of safe and worthy return of all the refugees to Abkhazia."
Georgian military expert Irakli Aladashvili told the news agency he doubts the separatist leadership would agree to that.
"Sokhumi is not interested in the return of the refugees," he said.
Tbilisi estimates there are 280 000 people—mostly ethnic Georgian—displaced by the Abkhazian conflict of the early 1990s. Other sources put the number anywhere from 150 000 to 500 000.
Separatist Abkhazia's population is thought to number about 200 000.
"If refugees go back to Abkhazia, there will be no need for any kind of agreements," Aladashvili said.