Opposition coalition to announce 'real results' on night of elections
By Mikheil Svanidze
Tuesday, May 20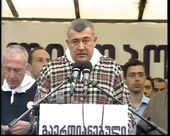 At a rally days before tomorrow's parliamentary elections, the nine-party opposition coalition called on supporters to gather after polls close to greet—and possibly challenge—the results.
Coalition leader Levan Gachechiladze told crowds to reassemble outside the Central Election Commission office at 11 p.m. on May 21—the day voters head to the polls—where he said the coalition would announce the "real" election results.
"If they [the authorities] do not announce the real results voluntarily, we will force them to," Gachechiladze declared on May 18, adding, "I am sure that the Georgian police and the army will stand where the Georgian people stand."
At an earlier rally on May 1 Gachechiladze told crowds to demonstrate on election day to "protect their votes."
The coalition leader also reached out to non-ethnic Georgians in an apparent attempt to garner support in minority districts where President Mikheil Saakashvili performed well in the January presidential election.
"I want to address Abkhazians, Ossetians, Armenians, Azerbaijanis, Russians and all Georgian citizens—I love all of you like my Georgians, and we should build a state together," he said.
In the weeks before the presidential election in January, the opposition made similar calls for supporters to demonstrate in the event of election fraud.
Demonstrators faced the cold January weather; in a February speech, Gachechiladze praised the devotion of supporters who endured the "terrible weather."
This time around the weather is unlikely to be an obstacle, though an Independence Day military parade on May 26 could provide the government with a reason to ban gatherings in the city center on that day and perhaps the days leading up to it.
Republican member Irakli Batiashvili voiced fears yesterday that authorities "will repeat November 7," the day police provoked a crisis by violently dispersed anti-government protestors in Tbilisi.
He claimed police are training on how to disperse mass rallies, and called on government officials not to use force against protestors.
With post-election plans set, both the CEC and the government will be under tremendous pressure as the polls close—and the outcome of the elections could be under dispute long after.