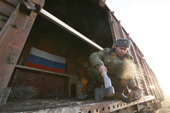 Georgia is accusing Russia of preparing an "invasion" after it deployed a team of military engineers to patch up breakaway Abkhazia's crumbled railway system.
(more)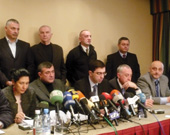 President Mikheil Saakashvili warned against weakening the country out of "private anger" as opposition leaders repeated their promise to physically prevent the new parliament from convening.
(more)
A United States spokesman called the downing of a Georgian spy drone a "very dangerous development" after a UN Security Council session last week.
(more)
Georgian Public Broadcaster board chairman Irakli Tripolski made a final decision to resign on May 30, citing the limited powers of the board in the station's management.
(more)
Opposition activists attacked.
(more)