The EU's foreign policy chief was in Tbilisi yesterday seeking to lower tensions between Russia and Georgia over a breakaway region.
(more)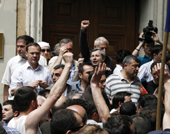 The eight-party United Opposition bloc says they will not recognize the new parliament, and called on supporters to gather in the center of the capital on June 8 to picket its inaugural session.
(more)
The leader of the Christian Democrats said last night they would break with the rest of the opposition by taking their seats in the newly-elected parliament.
(more)
Christian Democratic Movement leader Giorgi Targamadze has founded an institute he says will defend "Christian democratic values."
(more)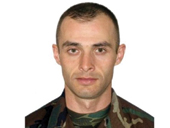 Georgia suffered its third combat fatality in Iraq on June 4, the Defense Ministry confirmed yesterday.
(more)
Joseph Kay, the man claiming management rights to the assets of late Georgian billionaire Badri Patarkatsishvili, has announced how he intends to divide the fortune up.
(more)