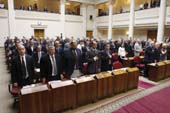 The newly-elected Georgian parliament unexpectedly convened on June 7 to avoid a potential large-scale opposition rally, opening with messages of political reconciliation and cooperation in stark contrast to its furtive first gathering and a small but vocal protest outside.
(more)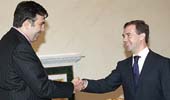 The presidents of Georgia and Russia met for the first time on June 6 in St Petersburg. Both sides said it was a friendly encounter, but there was no sign of resolution to the deeply divisive issues standing between the two countries.
(more)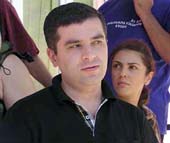 Former foreign minister Davit Bakradze was formally appointed parliamentary speaker at the inaugural session of parliament on June 7.
(more)
Moscow Mayor Yuri Luzhkov called on the Georgian government to recognize the independence of its separatist regions, drawing bitter fire from Tbilisi officials.
(more)
Olympic Committees of Russia and Georgia discuss Sochi Olympics.
(more)