Two quit United Opposition bloc, citing internal 'dictatorship'
By Mikheil Svanidze
Tuesday, June 10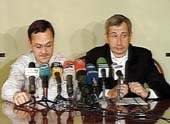 The eight-party United Opposition coalition continued a slow disintegration yesterday as two leading members said they would leave the bloc.
Gia Tortladze and Gia Tsagareishvili, who are not affiliated with any political party, said they were leaving behind a "dictatorship" in coalition decision-making.
"The [United Opposition] council had an elected leader, who guaranteed that all decisions were made on the basis of consensus, but after this principle was violated there is no place for us in this council," Tsagareishvili said at the press conference he and Tortladze called to announce their decision.
"It is unacceptable to have a dictator, whoever he may be."
The "dictator" went unnamed, but is an apparent reference to New Rights leader Davit Gamkrelidze who has emerged as a commanding figure in the United Opposition after his party joined the coalition in April.
Tortladze and Tsagareishvili, both incumbent MPs who won reelection in May on the United Opposition ticket, suggested they will break with their former allies by taking their seats in parliament.
They were absent at the June 7 rally when leading politicians from the United Opposition and Labor cut up their lawmakers' ID cards in a symbolic renunciation of their seats.
"I believe there is a small chance of constructive work in the new parliament. Those people who destroyed their [ID cards] don't believe there is a possibility of that. If the minority will have a say in the new parliament, I will join it. If not, I refuse to enter it," Tsagareishvili said.
But a leading New Rights member, Mamuka Katsitadze, accused the two men of seeking political cover for not joining the boycott of parliament.
"It's not about whether or not they enter the building; it's about renouncing their [MP status]," he said. "They didn't have any problems when they were in top spots on the United Opposition party list and majoritarian candidates from our bloc, despite them being without a party," Katsitadze told local news agency Interpressnews.
Most of the 17 members of the United Opposition who won seats in parliament have vowed to boycott the legislature by renouncing their MP status. Yesterday, a coalition leader formally annulled the bloc's party list at the Central Election Commission, making it impossible for unelected candidates further down on the list to take the place of boycotting senior members.
The opposition MPs-elect still must individually submit a renunciation of their mandate to parliament, according to Central Election Commission spokesman Zurab Kachkachishvili.
Two of the United Opposition MPs-elect won through local voting in districts of Tbilisi, meaning repeat elections will be held in the two capital districts once they formally give up their seats.
In an unrelated statement yesterday, New Rights politician Irakli Iashvili, tipped for the post of prime minister when party leader Davit Gamkrelidze ran for the presidency in January, said he would quit politics.
The small movement We, Ourselves, led by MP-elect Paata Davitaia, publicly split with the United Opposition earlier over plans for an 'alternative parliament.' Davitaia said he would take his seat in parliament if some concessions were made, like opposition power in the fiscal Chamber of Control.
Tortladze and Tsagareishvili were once members of For a United Georgia, the party founded by ex-defense minister Irakli Okruashvili immediately before his arrest in September.
Okruashvili is now in exile in France, where he won political asylum.
Tortladze was previously a member of the ruling National Movement, while Tsagareishvili was in the moderate Industrialists party.