Women prisoners on hunger strike in Tbilisi jail
By Messenger Staff
Tuesday, June 10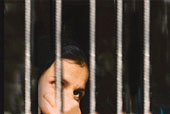 About 100 female inmates in a Tbilisi prison are on hunger strike over poor conditions, the Georgian prison department confirmed yesterday.
There are 550 prisoners in the jail, a prison department spokesperson told news agency NewsGeorgia, including around 125 women and 103 juveniles.
"They began the hunger strike on June 7 and were threatened by the administration that they would be punished with death, but they came to us and we spread the information," said Nana Kakabadze, head of local NGO Former Political Prisoners for Human Rights.
"They are going to fight to the end to make the truth known."
Kakabadze says the women want better jail conditions, and many seek a review of their cases.
"Some of them are absolutely innocent, some of them had unfair verdicts," Kakabadze told the
Messenger
.
The prison department says the prison conditions are adequate, and that the juveniles' cases are still being reviewed.