Burjanadze to set up political think-tank
By Mikheil Svanidze
Thursday, June 19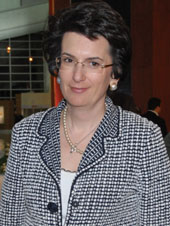 The influential ex-speaker of parliament spoke out publicly this week for the first time since her surprise announcement in April that she would not stand for reelection on the ruling party's ticket in the next month's parliamentary elections.
Nino Burjanadze said she would establish a think-tank called the Foundation for Democratic Development, in a June 16 interview with the Georgian Public Broadcaster (GPB).
"The main challenge for the fund will be to expertly assess the problems in the country and to put forth concrete plans to solve them," Burjanadze told the GPB journalist.
A top government figure for years, Burjanadze made it clear she was not leaving politics by announcing she would not stand for reelection to parliament.
"I don't think I quit taking part political events and processes in the country," Burjanadze said. "Setting up the foundation is currently a priority for me, and this is a new form of being in politics for me."
A spokesperson for Burjanadze declined to give more details on what precisely the foundation would do, or who would be a part of its work. More information would be announced next week, the spokesperson said.
Opposition politicians scorned her announcement, accusing her of having a hidden pro-government agenda.
Political analyst Ramaz Sakvarelidze suggests the foundation could be the basis for more forays into domestic politics.
"My impression from her speech is that she would create 'intellectual production,' which politics should be based on—let's call it a 'brain' for political processes—and that's a good idea," Sakvarelidze told the
Messenger
.
Sakvarelidze suggested that Burjanadze, who twice served as Georgia's acting president in times of crisis, is trying to find a "third way" in Georgia's polarized political and social environment.
Burjanadze was to be the top name on the ruling National Movement's party list for the May 21 parliamentary elections, but announced at the last minute she would not run, citing disagreements over the names on the party list.
"Despite long and difficult consultations, unfortunately, it was not possible to reach a consensus over the National Movement's party list. I think this is not a tragedy; it is not a pleasant fact, but it is not either a tragedy—it can happen in any democratic state," Burjanadze said on April 21, shortly before the 6 p.m. deadline for the submission of the party lists to the Central Election Commission.
Burjanadze's departure, however, didn't keep the National Movement from a landslide victory. The party emerged from the campaign with 119 out of 150 seats in parliament.
Burjanadze, together with President Mikheil Saakashvili and the late prime minister Zurab Zhvania, was an architect of the 2003 Rose Revolution which ousted then-president Eduard Shevardnadze. Speculated to harbor presidential ambitions of her own, she was briefly acting president after Shevardnadze's departure, and held the position again in 2007 when Saakashvili stepped down to trigger a snap presidential election in the wake of anti-government protests.