Abkhaz seek Russian sea patrols
By Mikheil Svanidze and Temuri Kiguradze
Wednesday, June 25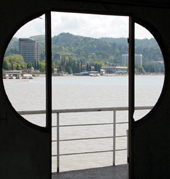 Abkhaz separatist officials said yesterday they will ask the Russian government to help patrol its 'sea borders.'
Tbilisi says any moves to deploy Russian patrol vessels off the coast of the separatist enclave would be seen as armed aggression.
Speaking to Russian reporters in breakaway Abkhazia, speaker of the de facto Abkhaz parliament Nugzar Ashuba said Georgia has no control over Abkhazia's sea borders.
"Maritime borders were set back when Abkhazia was an autonomous republic," Ashuba said.
Ashuba said Georgia occasionally "seizes" Russian fishing vessels that operate with permission from the Abkhaz de facto government, raising the need for protection.
Abkhaz de facto president Sergey Bagapsh said he planned to talk to Russian officials soon.
There was no immediate response from Russian representatives.
But Georgian military expert Koba Liklikadze says the Russian-led peacekeeping force's mandate "doesn't allow them to control the waters of Abkhazia."
Influential Georgian MP Nika Rurua, a member of the parliamentary defense and security committee, told television station Rustavi 2 that if a foreign vessel enters what Tbilisi considers Georgian waters without permission, "Georgia has a right to conduct political, diplomatic and even military measures against these actions."
Rurua accused the separatist leader of "in fact asking Russia to start military aggression against Georgia."
State Minister for Reintegration Issues Temur Iakobashvili also told reporters the Russian peacekeepers have no right to control the sea border, and any attempt to do so will be considered "military aggression against Georgia."
The Abkhaz request comes shortly after Moscow's decision to increase the number of Russian troops in the breakaway region, and to deploy paratroopers and railway engineers. Georgia officials say the escalated Russian presence is a precursor to flat-out annexation.