Blast destroys banker's car in Tbilisi center
By Temuri Kiguradze
Wednesday, June 25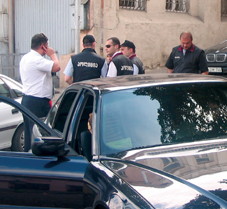 An explosion near trendy Shardeni St. yesterday destroyed the car of a banker linked to late Georgian billionaire Badri Patarkatsishvili. There were no injuries.
The black Mercedes, parked outside the Maidan Palace hotel in central Tbilisi, belonged to director of the Salford Georgia investment fund Irakli Rukhadze. The fund managed much of Patarkatsishvili's wealth and has offices nearby.
Police officers at the scene said they are considering "several versions" of what could have happened. They confirmed the incident was being treated as a crime, but declined to give details as they were not authorized to speak to press.
Eyewitnesses said they heard a loud explosion at about 11 a.m.; the blast blew out windows in several nearby houses.
"I was at the corner of the street when I heard the sound of a big bang," said the Maidan Palace parking lot attendant, Nodar Sakhltukhutsesi. "I turned and saw that one of the parked cars had exploded."
The explosion blew open the trunk of the car and wrecked the rear half, but left most of the chassis intact. After the car was towed away, a small crater was visible in the pavement below.
A Salford Georgia representative at the Tbilisi office refused to comment. The company is the local branch of British-based Salford Capital. An employee reached at Salford's London offices said they hadn't heard about the incident.
As managers of Patarkatsishvili's business empire the fund held shares in Georgian groups including Standard Bank, Imedi TV and the Georgian Glass and Mineral Water Company, but has been severing ties with the companies since Patarkatsishvili's death in February of an apparent heart attack.
Management rights for the late billionaire's assets are at the center of a dispute between a distantly related self-declared heir, Joseph Kay, and Patarkatsishvili's immediate family in Tbilisi.