Abkhaz to close border after more bomb blasts
By Mikheil Svanidze
Tuesday, July 1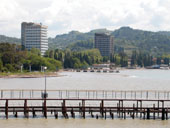 The leaders of breakaway Abkhazia said they would temporarily close the administrative border with Georgia today after a series of bomb blasts in the separatist region.
There were at least two explosions reported in the de facto Abkhaz capital Sokhumi yesterday morning. Initial Russian news reports said one person was killed and four injured when bombs went off near the town's central market, though an Abkhaz official later said there were no deaths.
The de facto Abkhaz president, Sergey Bagapsh, accused the Georgian government of being behind the blasts. Tbilisi says the violence is the result of an internecine squabble in Abkhazia.
"The situation is serious," said the de facto Abkhaz deputy foreign minister, Maxim Gvinjia.
"There were multiple blasts and people were injured, so we have to ensure the safety of both the local population and tourists. The blasts may be intended to intimidate tourists coming to Abkhazia, and we cannot let that happen."
Two other blasts went off the day before in a seaside resort to the north of Sokhumi. Those attacks reportedly injured six people.
Security is being tightened in Sokhumi, according to Russian and Georgian media reports.
Gvinjia said Abkhaz forces will close the administrative border with Georgia until the threat passes.
Georgian officials have blamed the blasts on either Russian agents or infighting between Abkhaz elites.
"The blasts are a consequence of inner struggle in Abkhazia between Bagapsh and [de facto vice-president Raul] Khajimba," MP Shota Malashkhia, chair of a parliamentary committee which deals with conflict issues, said yesterday. "They don't have the right to close this border and we'll inform all international organizations working there and urge them to respond."
Raul Khajimba and Sergey Bagapsh were once rivals for the Abkhaz presidency before reaching a power sharing agreement. Their differences have spilled into public view lately, according to Abkhaz press reports.
Khajimba opposes the Abkhaz leader's 'multi-vector' strategy for the separatist enclave, advocating Russia as the prime Abkhaz ally.
The closure of the administrative border, if enforced, could strongly affect ethnic Georgian residents on both sides.
Several hundred people cross the administration border every day, according to Irakli Tsanava of the pro-Tbilisi Abkhaz Media Center. Vendors and families from Georgian-controlled Zugdidi district cross north into the southernmost portion of Abkhazia, called Gali, which is populated mostly by ethnic Georgians.
"It will be very hard on [Gali residents] if they close the border. There aren't even hospitals in Gali, so if someone is injured or suffering, they take him to Zugdidi," Tsanava said.
Gvinjia, the de facto Abkhaz deputy foreign minister, said exceptions to the border closure would be made for emergency cases.