Pipeline project on the agenda at Batumi GUAM summit
By Temuri Kiguradze
Tuesday, July 1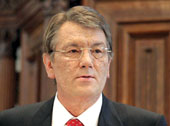 Energy security dominated the preliminary agenda for a GUAM summit beginning today in seaside Batumi.
GUAM, a regional organizational of Georgia, Azerbaijan, Ukraine and Moldova, was intended as a common security and economic space. It has undergone fractures since its conception in 1997 as some pushed to use the group to undercut Russian sway in the post-Soviet space.
Yesterday, summit participants met over a pipeline which could bypass Russia in delivering oil to Europe.
"We have discussed the question of an Odessa–Brody–Gdansk pipeline, which will allow the oil from the Caspian countries to be transported first to Ukraine and then to other parts of Eastern Europe," the Georgian Energy Minister, Aleksandre Khetaguri, told local journalists.
Currently, the Odessa–Brody pipeline runs north to south, bringing Russian oil to freighters in the Black Sea. A number of countries would like to reverse the flow and extend the pipeline, providing a route for Caspian region oil to reach Europe while bypassing Russia.
"We have never hidden the fact that this project is a strategic one," said Ukrainian President Viktor Yushchenko, as quoted by the Russian news agency Interfax.
Backers hope an Odessa–Brody–Plotsk pipeline, flowing south to north, will begin operating in 2011.
The project was agreed on at a Vilnius energy summit in October, when the leaders of Georgia, Ukraine, Lithuania, Azerbaijan, and Poland commissioned a feasibility study on the project.
Only three of the four GUAM countries are a part of the project. Left out is Moldova; earlier, the country's president expressed doubts about the direction the regional alliance was headed.
In an interview with Russian newspaper Kommersant, Moldovan President Vladimir Voronin said the future prospects of GUAM are "vague" and that Moldova would not stay in the group "if there is no economic interest" for the country.
Voronin also raised questions about proposals for a GUAM peacekeeping force, saying the current peacekeeping forces in Moldova and Georgia—both Russian-led—should suffice.
The Moldovan leader is not coming to this summit; he also skipped the previous summit in Baku.
But Georgian President Mikheil Saakashvili will meet his Polish, Ukrainian, Lithuanian and Azerbaijani counterparts in Batumi. Georgia is also to take the chairmanship of the alliance at this week's summit.
"Being a chair country, Georgia can conduct a role of the bridge connecting all other GUAM members," said Georgian economist Lado Papava. He said the organization's only hope for viability is to develop economic relations with Eastern Europe.
Also on the agenda, according to Georgia's economic development minister, are trade agreements on trucking quotas and a discussion on Azerbaijan's entry into the World Trade Organization.
Representatives from the Czech Republic, Japan and the United States will also be at the summit.