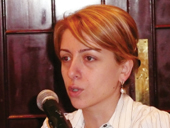 Moscow confirmed yesterday that its warplanes flew over separatist-controlled Georgian territory this week to "let hot heads in Tbilisi cool down," prompting a furious Georgian government to recall its ambassador to Russia.
(more)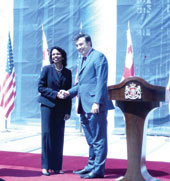 US Secretary of State Condoleezza Rice called for an end to the violence in Georgia's two breakaway regions and high-level talks on the conflicts as she finished a visit to Tbilisi yesterday.
(more)
Yesterday President Mikheil Saakashvili proposed creating a joint Georgian-Russian commission to ensure security at the 2014 Sochi Winter Olympics.
(more)
Shortly after US Secretary of State Condoleezza Rice finished her short trip to Tbilisi yesterday the
Messenger
interviewed the country's top official for conflict issues, Temur Iakobashvili.
(more)
Opposition election documentary released on internet.
(more)