Russian NGOs, academics, urge Moscow to show restraint
By Mikheil Svanidze
Thursday, July 17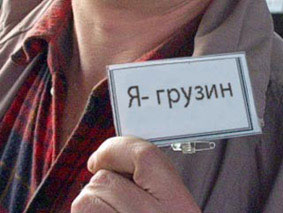 Amid the political face-off between Russian and Georgia some Russian civil society bodies have urged their own government to deal with the situation delicately.
An open letter posted yesterday on the website of the Russian NGO For Human Rights calls on Moscow to show restraint. It is signed by a host of human rights activists, academics and other NGOs.
"We are convinced that Russia, as a much more powerful military power, should exercise more restraint [with regard to Georgia]," the letter reads.
It also condemns Russia's rhetoric towards Georgia's breakaway regions, Abkhazia and South Ossetia.
Earlier this year Russia increased official ties with the separatists and bolstered its peacekeeping contingent in Abkhazia, causing outrage in Tbilisi.
"It is essential to stop flirting with recognizing or not recognizing the self-declared republics of Abkhazia and South Ossetia, to stop the cynical exploitation of their status as a means to blackmail Georgia with regard to the issue of Georgia's [potential] NATO membership," the letter reads.
It also urges Moscow to consider Georgia's call for replacing Russian peacekeepers with a joint Georgia-Abkhaz force with international monitoring.
"If the Russian peacekeeping corps does not have enough authority to stop the confrontation along the ceasefire line, it is necessary, rejecting superpower pride, to involve other countries, who are friendly to Russia and Georgia."
Among the signatories was the chair of the influential Moscow-Helskinki Group, a Russian human rights monitoring NGO. Any Russian citizen can also put their name to the letter.
For Human Rights, the organization that posted the open letter, also protested the deportation of Georgians from Russia when relations between the two countries deteriorated in autumn 2006.
At least 300 ethnic Georgians were shipped out of Russia as the government cracked down on Georgian businesses in Moscow and imposed a blanket embargo on its southern neighbor.
At that time the independent Russian radio station
Ekho Moskvy
launched a campaign encouraging Russians to wear pins with the phrase "I am Georgian" in an effort tackle anti-Georgian sentiment.
Support for Russian policies in Georgia, however, is a different matter—most pro-Russian political and civil organizations maintain a low profile and do not garner much public support.