Open letter attacks parliament for 'cynical attitude to democracy'
By Shorena Labadze
Tuesday, July 22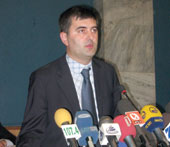 An open letter signed by journalists and civil society figures blasts parliament for its "cynical attitude to democracy" after MPs hit out at Human Rights Ombudsman Sozar Subari's annual human rights report.
"Realizing the protection of human rights importance for democratic development, we are indignant at the cynical attitude of the Georgian parliament towards democracy," reads the letter, which was released on July 19.
Subari presented his 2007 annual report, which is highly critical of the way the authorities dispersed protestors in Tbilisi center last November, at a July 15 parliamentary session.
Parliament passed a resolution saying it had "taken note" of the report. Afterwards ruling party MPs criticized the ombudsman for political bias and incompetence and claimed his report contains little factual evidence.
"The report contains a fundamental and deep analysis of the human rights violation facts," the open letter counters.
"After hearing the report, parliament only said it had been taken into consideration. This means that those violations the report mentioned will not be looked into, those who violated fundamental rights and freedoms will not be held to account, and violated rights will not be restored," it continues.
Ia Antadze, a prominent journalist signed the letter, said she is trying to support Subari's efforts.
"The letter was aimed to let the society, parliament and Subari himself see that we trust Subari and the facts he represented. We appreciate his work," Antadze said.
Rezonansi
editor Lasha Tugushi said the report was worth "serious discussion and exploration of the facts."
"Instead we got an incorrect, cynical attitude and misplaced criticism [from MPs]," he said.
While no MPs signed the letter, opposition Christian Democrat MP Levan Vepkhvadze criticized parliament for not acting on the report.
"The facts delivered in the report were so serious, that ignoring them means parliament doesn't carry out its legal functions. To say simply, the parliament having been conducted in such way shows disrespect of itself," Vepkhvadze remarked.
Sozar Subari said he understood parliament's reaction to the report but declined to comment on the letter's content.
"I can understand parliament because paying attention to the report means punishing many people, and this is, of course, uncomfortable for them," Subari said.
The extensive, wide-ranging report—which the previous parliament shelved shortly before the spring elections, saying it did not have enough time to hear the report—has drawn the most attention for its coverage of the events of November 7 and the health of the Georgian media, though the country's major television networks gave its content little airtime.
The report says that "special means" including a water cannon and rubber bullets were used "disproportionately, and in some cases unlawfully, to disperse protest ralliers" and calls for powerful Interior Minister Vano Merabishvili to be brought to criminal trial.
Ruling party MPs say the report does not contain enough factual content.
"We have heard a politically motivated report, not the facts," said a deputy chair of the ruling party, MP Eldar Kvernadze. Giorgi Gabashvili, another ruling party MP, earlier said the report was "based on rumors."